A place for rest, recreation and fun in Spinges
Here's a foretaste
What was once one of many bunkers in the area of Spinges has now become a family-friendly recreation area, where adults can relax and recharge under the trees while their children blow off some steam playing away under the sun. Or the other way round.
The recreation area in detail
The Spinges Bunker recreation area has been built on an old bunker from the time of the First World War. Those who crave some rest and a tan can put their feet up on the wooden loungers (the "Family solarium") while young and old adventure seekers can play away with two slides, a water feature, the balance tree trunks, a climbing tower and a lookout tower offering a great view of the mountains and woods. From the recreation area you can also set off and enjoy fantastic hikes in the Jochtal mountains – on some days we also offer guided hikes.
The bunker itself is quite a large building of rock and concrete, with 100 steps to climb and rooms and corridors spread across a total surface area of 500 m². You can still see the old battle stations where the heavy machine guns and anti-aircraft guns used to be.
The Bunker recreation area is just above Spinges and is easily reached on foot or by car.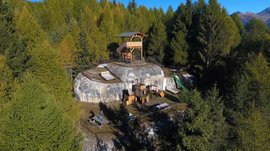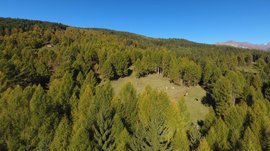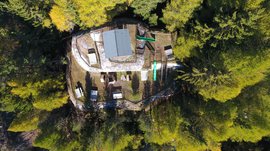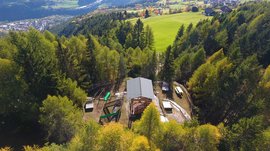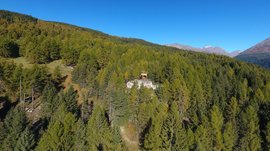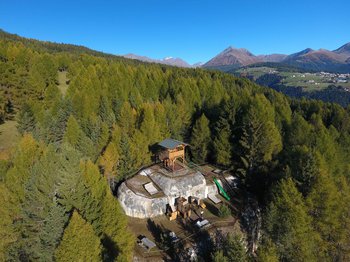 The Spinges Bunker recreation area
For families of all ages, shapes and sizes!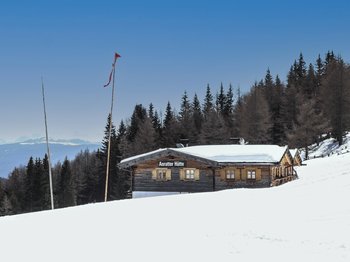 The Alpine pasture trail in Spinges
A taste of authentic South Tyrolean landscape