The Elves' trail in Vintl
The Elves' trail in Vintl
The Elves' trail starts in Obervintl and features exciting sights for young and old. Eleven child-friendly stations along the way reveal interesting facts and stories. The trail is just under four kilometres long with a 150-metre elevation gain and takes about one hour to complete.
The Elves' trail in detail
When you arrive at the car park in Obervintl, Lili the elf will be there, ready to accompany you on this exciting walk. Trail number 17 will lead you through a dense patch of woodland, where you will have the chance to interpret animal tracks and observe deer in their enclosure. Then, you can take your shoes off and experience the barefoot trail, which teaches all about the composition of forest soil. There is also a bee hotel where the surprising secrets of these industrious little creatures and their complex dances are revealed. Keep your eyes peeled and ears open – the woodland is full of birds to observe. At some point along the way, you will hear a roar.
It's the Obervintl waterfall – a 43-metre-high wall of water with a rock balcony just above it, from which you can enjoy a fantastic view of Obervintl and the surrounding area. After all these adventures, you've probably worked up an appetite – luckily there is a rest area in the wood where you can take a breather and enjoy a picnic. After a well-deserved break the walk continues, leading past a hydroelectric power station and a dry-stone wall, and finally back to Obervintl.
The starting point of the Elves' trail is by the large car park next to the St. Nikolaus church in Obervintl, just past the main town of Vintl on the Pustertal state road.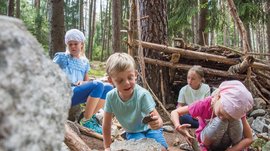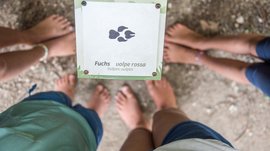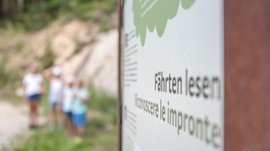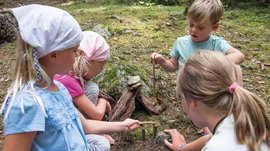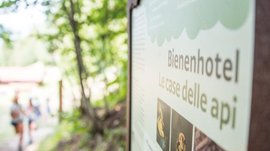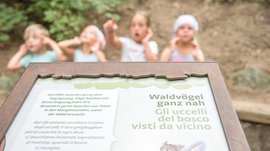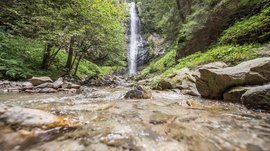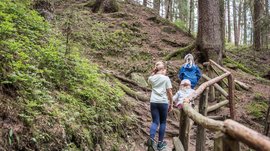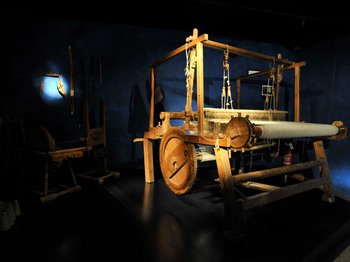 Traditional handcrafted textiles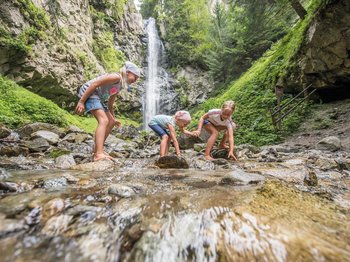 The Elves' trail in Vintl
Water, animals and other enchantments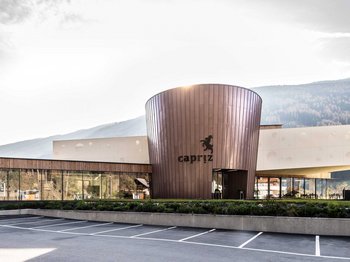 The Capriz cheese dairy & museum